NOTICE OF CASUAL VACANCY
27.04.22 to 18.05.22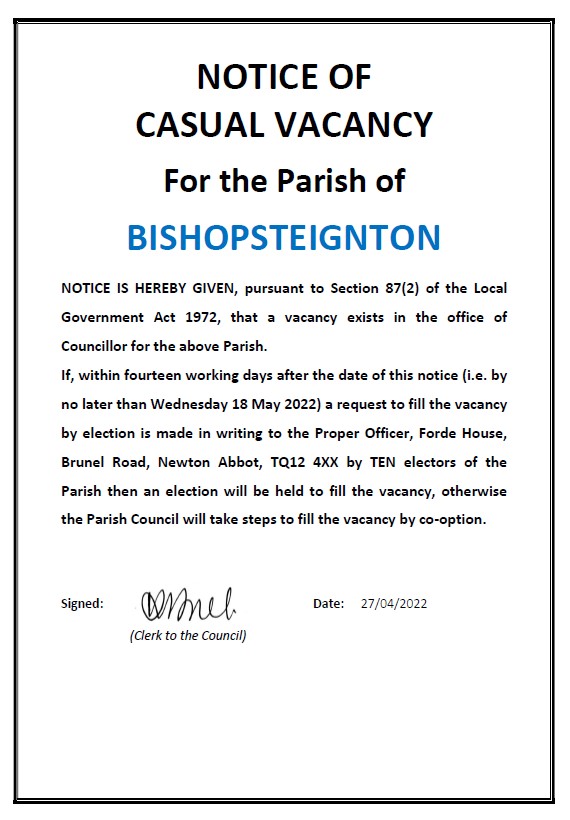 For further information about the process of Casual Vacancy please contact the Clerk to the Council.
NEXT BPC Meetings…
Full Council: The next full council meeting shall take place on Monday 09 May 2022.  The agenda and papers are published here .
Planning Committee: The next meeting of this committee is scheduled for Monday 23rd May 2022. The agenda will be published during the week before.
Bishopsteignton Annual Parish Meeting
The 2022 annual meeting for electors  was held at Bishopsteignton Community Centre at 7pm on Wednesday 16 March. Many thanks to those parishioners who attended. It was a great opportunity to hear your concerns regarding parish matters/assets and other parish council business as well as enjoy light refreshments. Follow this link to view the AGENDA . Draft Minutes of this meeting will be available to download here shortly.
A copy of the 2022 Annual report from Cllr. Henry Merritt, Chairman of Bishopsteignton Parish Council can be read and download here, Chairmans Report 2022. And minutes of the previous APM (2021) can be downloaded here – APM Minutes 2021.
LOCAL BUSINESSES SUPPORT… You can find access to a range of business documents
NEED HELP? … To discuss your needs for support with everyday tasks please contact Bishopsteignton Care Watch 07874-749705