COVID 19 STATEMENT
Bishopsteignton Parish Council acknowledges its duty of care during the present COVID -19 virus incident. The physical, mental and social aspects of wellbeing of our parishioners and community is of paramount importance to the BPC.
The Council is confident that the incident can largely be managed by residents taking personal responsibility and rigorously following the Government and NHS guidelines.  Of particular concern, is the need to provide help to those who are most vulnerable to the virus; the elderly (especially those with existing medical conditions and who are living alone) and residents who have a compromised auto-immune system.
We are fortunate to live within a community that is extremely good at 'pulling-together' to help in a neighbourly fashion. We recommend that you work together by forming micro-communities in your locality; by road or sections of houses within a road, depending on the size. 
However, over and above this and to plug any gaps in this self-help, further help and support can be provided by Bishopsteignton Care Watch and the Bishopsteignton Emergency Resilience Team (BERT). At the time of printing we have over 120 volunteers willing to help.
They can: –
Pick up shopping
Give you a friendly phone call
Provide help with dealing with Government Depts e.g. DWP re. benefits.
Please get in contact if you feel that you or a member of your family are vulnerable and wish to be contacted on a regular basis to check on your welfare. If you are concerned that you have the symptoms of Coronavirus and are therefore self-isolating for the recommended period, please follow the advice issued by PHE. In addition, to ensure you have someone in regular communication with you please feel free to contact the named co-ordinator for the zone you live in. They, and a team of local volunteers, can ensure that you have any medication or supplies delivered to you whilst you are isolated. Please contact either: –
Bishopsteignton Care Watch 07874 749705
BERT 07708512906
Further information will be provided by: –
Social Media – Facebook – Bishopsteignton Parish Council, Bishop Banter.      Instagram – Bishopsteigntonbanter. Twitter – Bishopsteignton Chat (Bishopbanter1).
Verbal – House visits, telephone calls, megaphone (if required)
Hopefully, if we are all vigilant, this can pass us with minimal disruption and we can look forward to better times ahead, where we can once again come out and celebrate all that is good in our fantastic village.
Bishopsteignton Parish Council – 19.03.2020
This statement can be downloaded here which includes details of the zones in maps and other useful numbers and links.
COUNCIL VACANCY
There is currently one vacancy on Bishopsteignton Parish Council.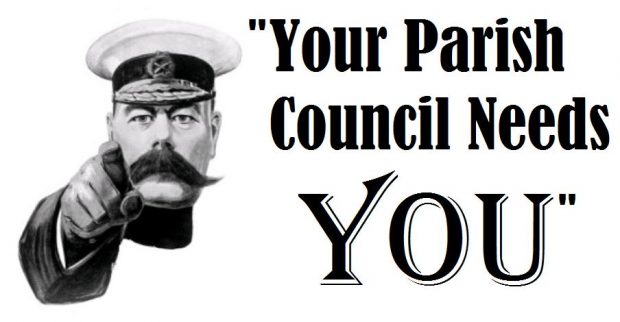 The casual vacancy period has now closed and with no requests made for a by-election it is concluded the Parish Council may co-opt a member to fill this final vacant seat.
If you'd like to know more about the role of a Parish Councillor and the role of a Local Council please take a look at the National Association of Local Councils publication Good Councillors Guide or contact the clerk.  
If you feel you have what it takes and wish to be considered for the vacancy please read the Councillor Co-option Policy which includes an application form  which must be completed and submitted to the clerk by Friday 27th March 2020. The co-option proces with be coducted in the BPC meeting to be held on Monday 6th April 2020.
PLEASE NOTE:-
In order to be eligible for co-option as a Bishopsteignton Parish Councillor you must be a British subject, or a citizen of the Commonwealth or the European Union; and on the 'relevant date' (i.e. the day on which you are nominated or if there is a poll the day of the election) 18 years of age or over; and additionally able to meet one of the following qualifications set out below. Please tick which applies to you:
a) I am registered as a local government elector for the parish; or
b) I have, during the whole of the twelve months preceding the date of my co-option, occupied as owner or tenant, land or other premises in the parish; or
c) My principal or only place of work during those twelve months has been in the parish; or
d) I have during the whole of twelve months resided in the parish or within 3 miles of it
Please note that under Section 80 of the Local Government Act 1972 a person is disqualified from being elected as a Local Councillor or being a member of a Local Council if he/she:
a)         Holds any paid office or employment of the local council (other than the office of Chairman) or of a joint committee on which the Council is represented; or
b) Is a person who has been adjudged bankrupt or has made a composition or arrangement with his/her creditors (but see below); or
c) Has within five years before the day of election, or since his/her election, been convicted in the UK, Channel Islands or Isle of Man of any offence and has been sentenced to imprisonment (whether suspended or not) for not less than three months without the option of a fine; or
d) Is otherwise disqualified under Part III of the representation of the People Act 1983 for corrupt or illegal practices.
This disqualification for bankruptcy ceases in the following circumstances:
i. If the bankruptcy is annulled on the grounds that either the person ought not to have been adjudged bankrupt or that his/her debts have been fully discharged;
ii. If the person is discharged with a certificate that the bankruptcy was caused by misfortune without misconduct on his/her part;
iii. If the person is discharged without such a certificate.
In i and ii above, the disqualification ceases on the date of the annulment and discharge respectively. In iii, it ceases on the expiry of five years from the date of discharge.
Councillor Surgeries
Bishopsteignton Parish Council is changing the way it communicates with its parishioners and it is hoped these changes will allow more interaction with you as well as improve the working practices of the Council. In addition this will enable the Parish Council to uphold its duty of care for the safety and wellbeing of the parish clerk.
The parish office in the community centre no longer has open hours. Instead a programme of regular open communication sessions is happening at various location across the parish to increase the opportunities for face-to-face contact with the clerk, chairman and several different councillors on each occasion.
Feel free to pop in to comment/make observations for our consideration or to see us about any parish matters which may be causing you concern. The next surgery will be at Chapels Cafe at the Methodist Church, Fore Street, 10.30am to 12, Monday 2nd March 2020.

Is there another venue in the village/parish you think would be a good space to chat to your councillors? Please let us know and we shall try to accommodate your needs.
If preferred, private appointments can be pre-arranged for other times (subject to availability). Please contact the clerk to arrange.